Product Description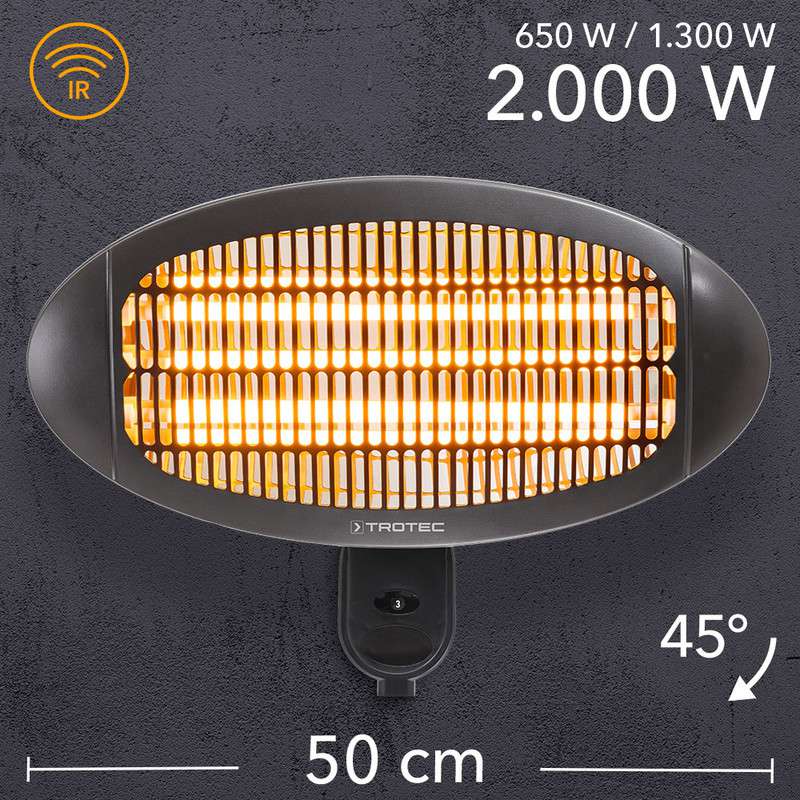 INFRARED RADIANT HEATER IR 2000 S
Cosy warmth – carefully targeted, consistent and direct
Pleasant feel-good temperatures outdoors all around the year
Consistently soothing warmth. And carefully targeted precisely to the point without the need for time-consuming preheating. The infrared radiant heater IR 2000 S produces warmth following the natural principle of the sun. Equipped with three modern quartz heating rods, it provides the immediate surroundings with cosy warmth from the very first moment and owing to the adjustable inclination angle the generated heat can be aimed precisely.
In addition to "Off" , the radiator offers three heating levels (650 W, 1,300 W and 2,000 W) to meet all kinds of individual requirements. You can easily change these heating levels by means of the practical pull switch.
With the licence for allergy sufferers
Like all infrared radiant heaters of the IR-S series, the IR 2000 S, too, converts a great deal of the energy input into direct heat, which in comparison to a hot air blower increases the performance of the quartz radiator in terms of energy-efficiency. Another standard feature of the series than the clean, silent and odourless heat supply is its suitability for allergy sufferers – seeing as the device gets by without fan, no dust is raised.
The IR 2000 S can quickly and easily be attached to a wall or telescopic tripod – for start-up the connection cable of the device is simply plugged into the nearest socket. As per protection class IP34, the appealing exterior protects the device against splashes of water.
The IR 2000 S impresses with practice-oriented details:
The 500 mm wide IR 2000 S provides infrared heat of up to 2,000 watts for many applications.
The rip cord can be used to single-handedly switch the infrared radiant heater on or off without much effort.
Three heating levels can be selected for the operation of the IR 2000 S – depending on how much heat radiation is desired.
The steplessly adjustable radiator head can be tilted to an inclination angle of 45°.
Entertain and cater for your guests on the terrace all year round – even if the day starts out chilly.
Do not let cold evenings put a stop to a cosy get-together on your terrace or balcony!
Despite all efforts construction sites are often cold and draughty. Good to have a heat source at hand that can be flexibly positioned.
Spending longer periods in market stalls or booths you can easily become frozen to the marrow. Why not use an IR 2000 S as countermeasure?
A few practical benefits:
Infrared heat without preheating
Even and targeted heat distribution
Clean, non-condensing, odourless and free from noise
No dust circulation, thus suitable for allergy sufferers
3 heating levels, up to 2,000 watts
3 quartz elements
Splash-proof, protection class IP34
Adjustable inclination angle with a wide effective range
Suitable for wall mounting
Integrated suspension device
Energy-efficient
Technical Data
3 quartz heating elements with 3 heat settings
Heating power level 1/2/3: 650 W / 1,300 W / 2,000 W
Connection voltage: 220 – 240 V / 50 Hz
Power connection: CEE 7/7
Cable length: 1.8 m
Dimensions (L x W x H): 60 x 500 x 230 mm
Weight: 1,8 kg
Protection class: IP34 (splash and spray water protected)
Adjustable angle of inclination (45 °)